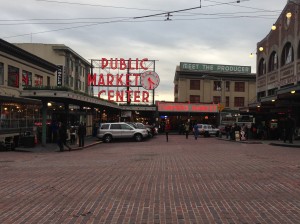 For me, the first thing that comes to mind when I think of Seattle – no, not Nirvana, grunge, or even good beer – is fresh seafood. Sure, it's a bit corny that the fishmongers in Pike Place Market still put on their show for the tourists where they toss around huge salmon like a football, however it still a great place for a stroll. It is also a working market and you can find great deals on seasonal produce, craft items, and of course seafood in the area around Downtown Seattle. This trip, I was mostly near the Washington State Convention Center area, so I wanted to share a few spots that we enjoyed relatively close to that area.
>> If you have a bit more time and inclination, I also highly recommend a trip out to Fremont for an alternative view of the Seattle skyline. If for nothing else, you MUST stop at Paseo for a sandwich, but if you have a few hours to kill, I'd recommend to making an afternoon of it.
Toulouse Petit (Lower Queen Anne)
When I asked for Seattle recommendations, my Instagram friend, Mark (chef/owner at Full Moon Cafe in Hilo) recommended I try a restaurant called Toulouse Petit in Lower Queen Anne. I didn't realize it until my last day but the restaurant was only blocks from my hotel! Luckily, a fellow AWP attendee from Hawaii, Brenda, was down to meet up there for brunch before I had to catch my train for Portland.
I'm so thankful that we made it, although I wish I had time to go back for happy hour! First, their menu is enormous. We went with the two most popular items recommended by our server – Dungeness Crab Benedict for me and Duck Confit Hash for Brenda. An Instagram post of the benedict got over 60 likes within the first three hours, and it tasted just as good (if not better) than it looked!
Weekday mornings they have a breakfast happy hour where you can save $3-5 per plate on most breakfast items. Their regular happy hour boasts a small plates menu with over 50 items ranging from $4 to $8. A full bar with great food makes it a popular spot, and even at 10am there was a 20 minute wait. We had to speak a bit louder to hear each other over the lively conversations going on all around us, but overall the atmosphere was lively and fun. Highly recommended.
Toulouse Petit
601 Queen Anne Avenue N
Seattle, WA
(206) 432-9069
Plum Bistro (Capitol Hill)
Obviously, I'm an omnivore, but once in awhile I'm veg-curious so it was a good opportunity to head out for lunch with my friend Kim to a vegan restaurant in the Capitol Hill area to celebrate both her birthday and our time at AWP.
I ordered a breakfast skillet with panko-crusted seitan, umami-rich mushrooms and sweet red peppers, grits and a biscuit with mushroom gravy. Although the size was on the small side for its $16 price tag, it was hearty and flavorful and I did not miss the meat. We also split their signature "Mac n 'Yease" which is made with nutritional yeast, which gives it a savory, almost nutty flavor (sort of reminds me of how you'd add nutmeg to mac & cheese) and a bit of spice to give it a kick. Yum!
Plum Bistro
1429 12th Ave
Seattle, WA 98122
(206) 838-5333
Continue reading →