…Begins with a single step!
And here we are. Though I've been keeping blogs for awhile now, this is the first time I'm really delving into the process of building my own blog from the ground up.
I'm mostly doing this for me – a place to jot down my thoughts, to share my favorite places and things with all five of you who may be reading (hi, mom!) and a way to be continuously learning and growing, challenging myself to write regularly.
I'm also doing this for you – the hypothetical readers of Shoyu Sugar. I'm hoping these stories will convey my cravings – for food, for life, for new adventure, and for meaningful connections with those I love. I'm also hoping to honor my past, my family, and the beautiful islands that I call home.
Each year, my friends and I start the year off by toasting the first sunrise at the easternmost spot on the island and picking our word for the year. For 2012, my word was CREATE. One of my resolutions was to create my own blog, finally.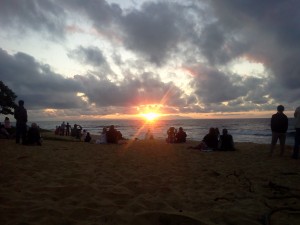 So here it is. Let the journey begin!