The 2014 AWP Conference took place this year in Downtown Seattle at the Washington State Convention Center. It was a great location, just minutes from the Pike Place Market and with easy access to public transportation to take you elsewhere if you desire. We were fortunate to have great weather the first day or so, but as the forecast for the weekend called for rain and lower temperatures, I decided to skip a few of the sessions one day in order to take an excursion to see a different part of town.
Usually when I'm creating my own little detour, I like to set out with a point of interest or two in mind and to see what develops from there. Unless I'm really short on time, I prefer to slow down and travel via public transportation because the people watching is better and sometimes you get great travel tips from locals this way. So I got myself an Orca Card (Seattle's stored value rider card) which allowed me to blend in a bit better and to not need to bother with digging out exact change. And where better to set off to than "the center of the Universe", or as it's better known, the neighborhood of Fremont.
>> Read more about Orca Card official website.
How to Get to the Fremont Troll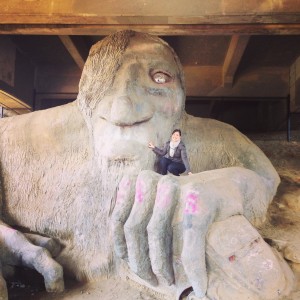 From Downtown Seattle, catch the #5 bus at 3rd & Pike Street towards Shoreline / Greenwood and ask the bus driver to warn you at the stop for the troll under the Aurora Bridge at 36th. Here, you'll come face to face with the troll himself.
If you'd like to climb up over him go ahead! Of course, it makes for a good photo op, but it's a shame when people leave trash or graffiti behind on this public work of art, as you can see in the photo I got.
>> Read more about the Fremont Troll's History.

Here's a Google Map so you can plug in your own starting point:

Where to Drink in Seattle: Fremont Brewing Co.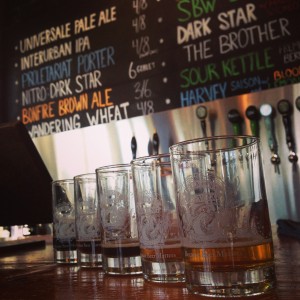 After you've gotten your quality time with the troll, head down towards the water and turn left on N. 34th Street. A couple of blocks down and you'll find Fremont Brewing Co. where you can sample the beers on tap or purchase a pint to enjoy at the picnic tables outside (if the weather is nice) or a growler to take home. The staff is friendly and knowledgable. They have to be, as their slogan is "Because Beer Matters." Nice! I particularly enjoyed the Proletariat Porter.
Fremont Brewing Co.
1050 N 34th Street
Seattle, WA 98103
(206) 420-2407
Must Eat in Fremont: Paseo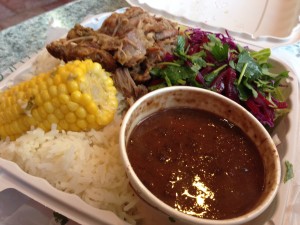 I was urged by multiple people to try to find this little hole-in-the-wall to try one of their famous sandwiches. I didn't think I had time, but when I stopped at Fremont Brewing, a group of people to the left of me unwrapped Paseo sandwiches to go along with their beers and I about died of jealousy. The smell was intoxicating, and not because we were in a brewery! In fact, the family to my right caught a whiff and instantly said "oh god, that must be from Paseo." That sealed the deal – I was done fooling around with the bus and caught a cab directly there to try for myself. (It's less than a mile away, little did I know!) I got a plate instead of a sandwich and the portion was huge. The Carribean pulled pork came with beans and rice, corn on the cob, and a tasty cabbage salad with fresh cilantro and beets to brighten it up.
Paseo
4225 Fremont Ave N
Seattle, WA 98103
(206) 545-7440
>> Tip: Paseo is CASH ONLY and there's always a line, though it moves quickly. There is very limited seating available, so you may opt to make this your first stop in Fremont (here's a map), then visit the troll, then head to Fremont Brewing to enjoy your sandwiches. (Wish I had done it in that order – learn from my mistake and thank me later!)
One Last Look: Gasworks Park
Still toting my Paseo leftovers, and starting to feel the chill as the sun was beginning to set, I caught the bus back to my hotel at this point, but if you have planned better and have time, I suggest you end your visit to Fremont with a stop at Gasworks Park. Here you will find a beautiful view of the Seattle skyline across Lake Union, with the sun going down behind it.
Enter the park via the Burke-Gilman Trail that runs along the water, a public walking and biking path and find a spot to take a rest and watch the kite-flyers or stop for a picnic (if you haven't inhaled your Paseo goodies by now!) Bask in the view and congratulate yourself from getting out of downtown and into the Center of the Universe, Fremont.
>> If you're heading back downtown, you might enjoy this list of Where to Eat in Downtown Seattle.
>> Did you enjoy your time in Fremont? Know of something else to do, see, or eat there that I missed? Leave a comment and let me know!