Despite the crowds, ridiculous parking fee, and the fact that I spend more than I budget every time, I love the Made in Hawaii Festival and I continue to go every year. It's a chance to support local small businesses and to see what's new from around the state. This year there were more vendors from the outer islands (especially Maui) and it's great to see their products showcased here on Oahu.
Here's a look at some of my favorites from this year's Made in Hawaii:
Adoboloco - Booth 384 (Arena)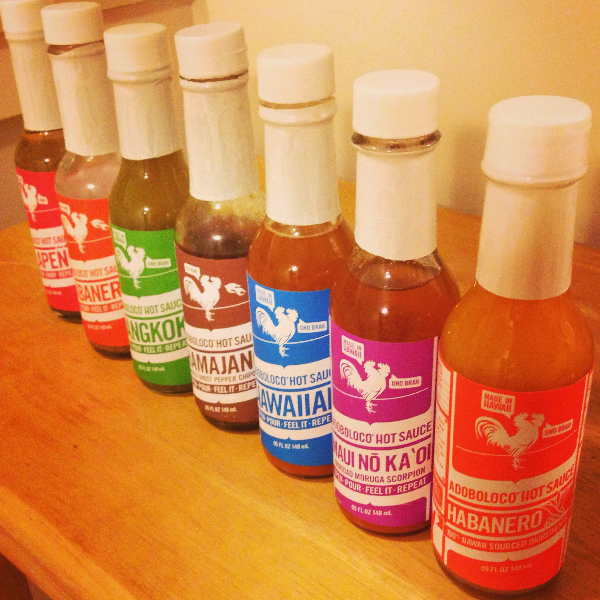 Picture 1 of 11
Adoboloco is my latest hot sauce obsession. I have every hot sauce they've ever made, including the very limited edition Habanero Pineapple which is made with 100% local ingredients and which you can ONLY get at the Made in Hawaii Festival this weekend. Prices range from $8 - $10 per bottle.
>> Click "next" above for the rest of the slideshow
Admittedly, I did not have time (in the 3 hours I spent there) to visit every single booth, so I'm sure I missed some gems. However, I think I did well by my "greatest hits" and got to try some new things as well. Not pictured above, but worth a visit are: [Ki-ele] jewelry in booth 237, Maui Preserved (I missed this one, shucks!) in booth 538.
Tips for your visit to the Made in Hawaii Festival
Parking at the Blaisdell costs $7. Carpool with friends or allow yourself extra time to walk a little bit to find street parking around Thomas Square or down towards Kapiolani Boulevard.
Admission is $4 per person (kids 6 and under are free) and you can save $1 off if you snag a coupon from a First Hawaiian Bank branch.
The festival is HUGE! Don't miss both sides – the Exhibit Hall is the largest, but there are also lots of booths in the Arena. If you have limited time, check out the list of vendors and their locations in the official program.
Food demos and entertainment happen throughout the weekend! Check out bands like Kapena, commedian Frank Delima, and chefs from Cactus, Tiki's, Chai's, and more. The program lists all the entertainment & demos.
Bring cash. Although many vendors now accept credit cards, there are some which are cash only. The ATMs at the Blaisdell charge a fee.
Go early & be patient. It gets really crowded at the festival, try to go as early as you can – 10am is less crowded than mid-day. Some vendors also sell out – Kanemitsu Bakery from Molokai did not even last the whole first day!

Made in Hawaii Festival 2013
Neil Blaisdell Arena & Exhibition Hall
Dates: Friday 8/16 – Sunday 8/18
Hours: Friday & Saturday 10am – 9pm, Sunday 10am – 5pm
Cost: $4 per person, $7 parking
>> This is just one of the awesome events happening in Honolulu during August 2013. Be sure to keep an eye on our foodie calendar for other great events year-round.