Ten hours to showtime.
I'm booked on the red eye tonight to LA, meeting up with friends there and continuing on to Cabo San Lucas. I've never been to Mexico, so I'm looking forward to adding a stamp to my passport and spending a few days soaking up the sun, lounging by the pool, margarita in hand. I'm hoping to even squeeze in a cooking class if there's time…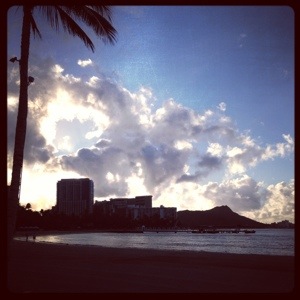 I started the morning with a six mile jog through Waikiki and breakfast at the KCC farmers market, my absolute favorite way to start the weekend. The Pig & the Lady booth was awesome, as always. This time I'd opted to try an egg drop soup with asparagus and crab. Yum! I don't think I've ever had a bad meal with the Le family.
So everything's going as planned. Ten hours is plenty of time to do some laundry, finish packing, maybe even sneak in a nap. I always try to avoid last minute rushing around so I can start my vacation without stress.
I head to the bathroom to collect my toiletries and notice a red splotch about the size of a quarter on my chest.
Really? Hives again? Now?!?
A few weeks ago I'd had a bout of hives, and although I eat shellfish all the time, my guess is that the delicious crab in my soup is what brought on the angry red welts. Sure enough there they are, about half a dozen on my chest, back, and legs.
Sigh.
The last time it happened Benadryl didn't do much and they took about a week to fade. They got worse before they got better. So much for lounging by the pool with a margarita. What timing!
Eventually I stopped cursing the hives. My friend Jess reminds me that stress is only going to make it worse, so I gave in and popped a Benadryl. At least I know I'll sleep well on the flight!
Crossing my fingers these don't hang around for a week. Don't they know I'm on vacation?
I guess it's a good reminder for me that life sometimes has other ideas, no matter how hard I plan. Oh well, ready or not, Mexico here I come… Passport, check! Swimsuit, check! Benadryl, check! Here we go…