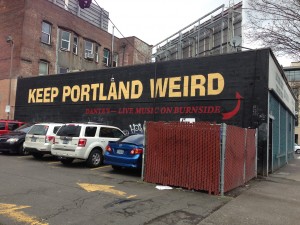 When I mention to people that I've never been to Portland, they're always surprised. It's one of the great food cities of the West Coast, and it's been on my radar for years but I had never gotten around to making an actual stop there for one reason or another. My cousin Daniel moved up there five years ago, so I even had a place to stay. So this year, I found a way to fit it into my plans.
I'm so glad that I finally did!
Although on this trip I had a very limited budget, it was no problem in Portland. The variety of inexpensive and creative food found right on the streets blew me away. Plus I always love the chance to support local businesses, so food carts are right up my alley.
Portland was really one of the first cities to truly embrace the food cart craze, and I'm happy to report that it's still going strong – it's reported that there are over 600 food carts in operation. You can find just about every type of ethnic food to match any craving. And I'm not just talking about your standard gyros, korean fusion tacos, or grilled cheese trucks – although you can find excellent examples of all three. When I asked for Portland recommendations, I was told to seek out a Mauritian, a Georgian (the country, not the state), and a Transyvlanian cart. How cool is that?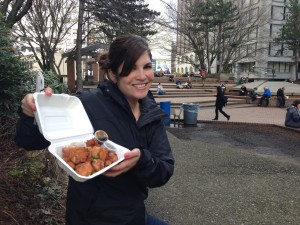 Needless to say I was in food heaven just thinking of the possibilities. So on my first day, my old friend Sheryl was kind enough to meet up with me on her lunch break so that we could try a variety of trucks. Two girls + five food carts in a little under two hours = full bellies and lots of leftovers! That's my favorite kind of math. 😉 Here's a look at some of the things we tried.
My (Current) Favorite Portland Food Carts
*I have to put the disclaimer here that this is my current list of favorites – I'm sure that given a few more days I've have a bunch more to recommend. These were my highlights from my first visit to the magical land of food carts, better known as Portland.
Nong's Khao Man Gai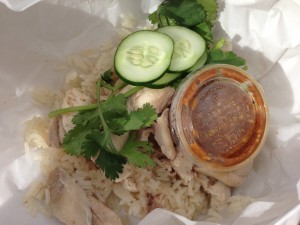 One of three locations, the Downtown cart for Nong's Khao Man Gai is in my favorite food cart pod at SW 10th & Alder. This was my cousin Daniel's recommendation and the only cart that I loved so much I had it twice!
The menu is short – they do one thing, and they do it well. Order the chicken & rice and it comes tied up with a rubber band along with a container of light soup to wash it down. So simple & delicious, although a little messy to eat unless you've got a table to sit at. In fact, their website has a tutorial video on how to eat Khao Man Gai. Be warned – it will make you hungry!
Nong's Khao Man Gai (Downtown)
SW 10th & Alder St.
Portland, OR 97205
971-255-3480
Twitter | Facebook | YouTube | Yelp
Kargi Gogo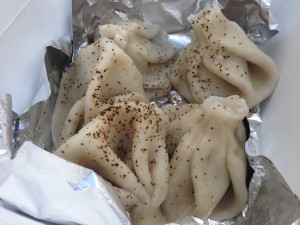 Owners Sean and McKinze wrapped up over two years in the Peace Corps in Georgia in 2012 and opened Kargi Gogo to pay homage to the people, the food, and the recipes they fell in love with while there. I'd never had Georgian food before, so I had to ask for recommendations – I wish I had more time to try them all!
We ended up going with the Khinkali, stuffed beef & pork dumplings, and loved them. I expected the wrapper to be thinner like asian dumplings (they are shaped like Xiao Long Bao), but the outside is more doughy, and for me the taste reminded me of a chow funn noodle.
Kargi Gogo
950 SW Washington Street
Portland, OR 97205
(503) 489-8432
Twitter | Facebook | Instagram | Yelp
Delicios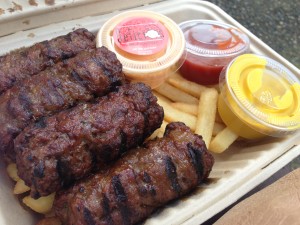 My friend Jay is the ultimate foodie. We jokingly call him a "food snob" but really, what it means is that he has high standards for food and everything about it. The ingredients, the preparation, the love that goes into the final product, the experience of eating and the enjoyment that can come with sharing it with good company. So when he declared the Transylvanian cart, Delicios, his favorite food cart in Portland, I knew I had to seek it out – and we weren't disappointed!
We ordered the mici on Jay's recommendation and chatted with the cart owners are we waited. They were so sweet and even remembered Jay from his visit a few months ago. As the mici are grilled to order they do take a few minutes, so they also passed out samples of their popular chimney cakes, which were delicious. Or "delicios", as they'd say in Romania. =)
Delicios
521 SW 10th Ave
Portland, OR 97205
(503) 887-9779
Twitter | Facebook | Foursquare | Yelp
808 Grinds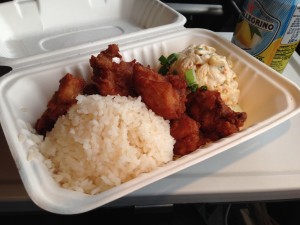 There are lots of Hawaii transplants in the Pacific Northwest and 808 Grinds brings a taste of the familiar plate lunch from Maui to PDX. A scoop rice, scoop mac salad and your choice of entree is local comfort food at its best. I chose the 808 Fried Chicken (mochiko chicken, so the batter has a touch of sweetness) although it was tough to choose. Other options were kalua pig, shoyu chicken or loco moco.
As for the name, 808 is the area code for all of Hawaii. The owners of the cart both hail from Maui (just like me!) so Sheryl and I definitely had to check them out.
808 Grinds
SW 9th and Washington Street
Portland, Oregon 97205
(503) 713-8008
Twitter | Facebook | Yelp
Pulehu Pizza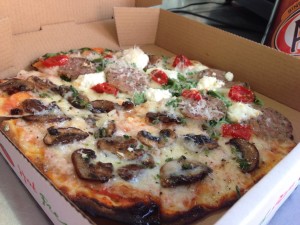 Pulehu Pizza is run by another duo from Maui, including my classmate Annebelle. It was so fun to see her in action after chatting via Twitter and Facebook. We haven't seen each other in years, so we stopped by the cart to try a "half & half" version of their 8″ pizza so that we could try two types.
We opted for half Truffle Mushroom and the other half we asked her to surprise us. It came fresh off the grill (yes, grilled pizzas!) and piled with fresh toppings including a housemade ricotta cheese, veggies and local sausage. For a final sweet touch, Annebelle gifted us a "kitchen sink" cookie based off the recipe from Momofuku Milk Bar. If they haven't run out by the time you visit, I'd definitely recommend picking up one of these for dessert!
Pulehu Pizza
32 SW 3rd Ave, Portland, OR 97204
(503) 915-6869
Twitter | Facebook | Yelp
Chez Dodo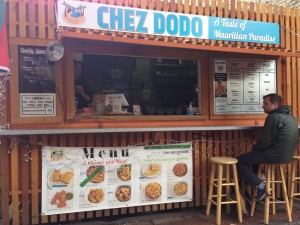 Just a block from Pulehu Pizza, we stopped by Chez Dodo to try the tofu fritters, again based on Jay's recommendation plus a 5 star average on Yelp with over 100 reviews – impressive!
I'd never had Mauritian food before, and although the menu looked enticing – lots of tasty curries, noodle dishes and even many vegetarian options, we just did not have room for a second dish. Everyone comments on the chef's friendly demeanor, although he was pretty busy when we stopped in. Next time we'll have to come here first. So many food carts, so little time!
Chez Dodo
427 SW Stark St
Portland, Oregon 97204
(503) 270-9258
Twitter | Facebook | Foursquare | Yelp
Maximizing Your PDX Food Cart Experience
A couple of tips to help you to enjoy all that Portland's food carts have to offer.
Bring a friend – As is always the case for food cart events (like Eat the Street back home), there is strength in numbers when dining at food carts. Get a variety of options and share them family style so that you can try more than just one if at all possible.
Check social media – Many food carts are on Twitter, Facebook and/or Instagram, where you'll find the heads up on specials, photos of their dishes, sell-outs or details like changes in hours or location. (All three are public sites, so you don't even need to be signed in to view.) Deals or discounts are sometimes offered with sites like Yelp or Foursquare if you "check in" to the location, which basically shows your friends or followers that you're there – consider it word-of-mouth advertising for the digital age.
Ask for recommendations – If you have any friends, family or acquantainces in Portland, hit them up for their favorite carts and what to order. If you don't, as your hotel or cab driver. Everyone has a favorite. If nothing else, be sure to ask the person taking your order for what they would recommend – you'll get the inside scoop on what's the most popular, a sample, or maybe even a secret menu item or two.
>> I don't claim to be an expert (at all!) on Portland's food carts, so if you'd like more elaborate info, FoodCartsPortland.com is a great resource with vendor listings, maps and write ups.
>> Did I miss your favorite Portland food cart? Check my page of Portland Recommendations and leave it in the comments if you don't see it there. That's my short list for the next trip to PDX, which I hope will be soon!