My first morning waking up in the mountains of South Kona and the stillness of the forest outside was almost overwhelming when compared with the city of Honolulu I'd left behind. Huge, stately ohia trees reached up to the sky with lush, green ferns and colored hibiscus flowers scattered throughout canopy below. A little bird sat chirping away in the window, looking confused as to why we'd be wasting such a glorious morning lying around inside.
One look at the gorgeous weather and we packed up to head down to the bay in search of dolphins and whales. We first drove by the historic Pu'uhonua o Honaunau National Park and although the parking lot was pretty full, even at 8:30am, Kitty's expert eyes decided that Kealakekua would be our best bet so we kept driving til we reached Manini Beach.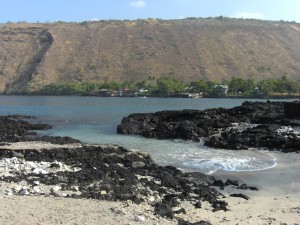 We were so happy to be together with such a beautiful day ahead of us that we got out all of our gear but couldn't resist snapping a few photos before heading in the water. I gathered shells along the beach as well, it was so pretty with the salt & pepper sand from the black lava rock and white bleached out coral.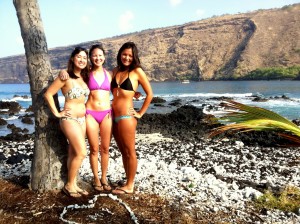 Soon it was time to head out into the bay and the whales were literally calling us!
I've been on whale watch cruises as a kid where they drop a microphone into the water so that you can hear the humpback whale songs. But there is absolutely no comparison with hearing them yourself underwater! As we swam the mile or so from Manini Beach to the Captain Cook monument, we were in deep ocean water for most of the way so below me all I saw was blue with shards of sunlight piercing through towards the bottom. I kept half-expecting that if I wished hard enough I would see a great big whale eyeball come up out of the deep to match the song that seemed to reverberate in the waters all around me.
For awhile I was so mesmerized by the whale sounds – and trying to figure out if I was hearing two or three of them – that I lost track of how exahusted I was becoming from the swim! I glanced out to the Captain Cook monument and asked Kimi if we were swimming to it. (I found out later that she and Wendy had made the swim the day before as well!) Soon we were on our way there, and I was just happy for a minute or two on dry land while we watched the throngs of tourists snorkeling around with their foam "noodles" and underwater cameras. Enjoying the sun, I looked at the girls sitting around me and realized how lucky I was to be there in Kona.
Until I realized we had to swim back!
In all, we were in the water for about two hours and covered maybe two miles or so in the open ocean. I haven't done that much swimming since I was in high school! And even then, I did the lazy breaststroke, so freestyle is really not my thing. Needless to say, as we drew back towards the cove where we entered, I was exhausted. The waves had picked up so we'd have to time our exit between swells and the thought flickered through my mind that I might not have enough energy left to get myself safely back out!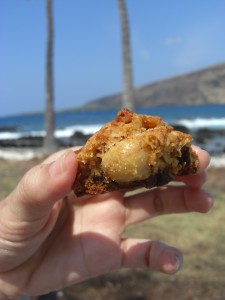 Luckily, we made it out with no problems and I lived to tell the tale. Kitty rewarded us with huge, homemade cookies loaded with delicious bits of oatmeal, dark chocolate and a whole macadamia nut intact in the center of each one. It was the sweetest way to end a perfect Kona morning.
That afternoon we lazed around the house while Kimi made us steaming bowls of miso soup (which we nicknamed "Miso Soup-er Happy" soup) to nourish us after our swim. Each bowl started with a pile of soba noodles, a few fresh-cut slices of ahi sashimi caught the day before, then a steaming ladle of Kimi's ginger-rich miso broth loaded with veggies and wakame. Pouring the hot broth over the slices of rare ahi cooked them to just medium-rare. It was heavenly.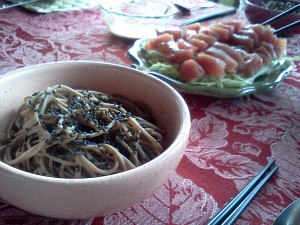 As if the day couldn't get any better, we gathered up another picnic and a few cold Kona Brewing Co beers and headed down to Pebble Beach to meet our old friend Kaha. Kimi made further use of the ahi by using cubes sauteed with onions and a ponzu sauce to go onto soft rolls of bread spread with a pesto aioli, which she assembled for us right on the beach. As the sun set over the horizon, I had to pinch myself.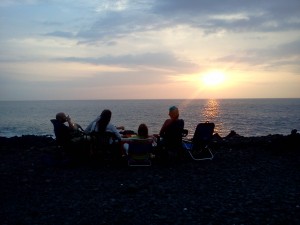 Could this really only be the FIRST DAY of my vacation? Ahhhh, I could get used to this…