One of the benefits of living near the resorts and hotels of Waikiki is that we've got world-class spa facilities available to us when we're up for a splurge. A great way to treat yourself is to book a spa treatment at the Mandara Spa at the Hilton Hawaiian Village.
The Mandara Spa Experience
Check in is on the fourth floor of the Kalia Tower of the Hilton Hawaiian Village, and once you arrive you'll be led on a tour of the facilities, including the lounge areas. Before my treatment, I spent some time in the fitness room (a small gym with cardio equipment, free weights, and room for stretching) and then read out by the pool for a bit. On my way back to the women's lounge, there were complimentary cups of fresh fruit and chilled ice water, and I couldn't help grabbing one with a smile as I felt the relaxation sinking in – it truly felt like I was on vacation.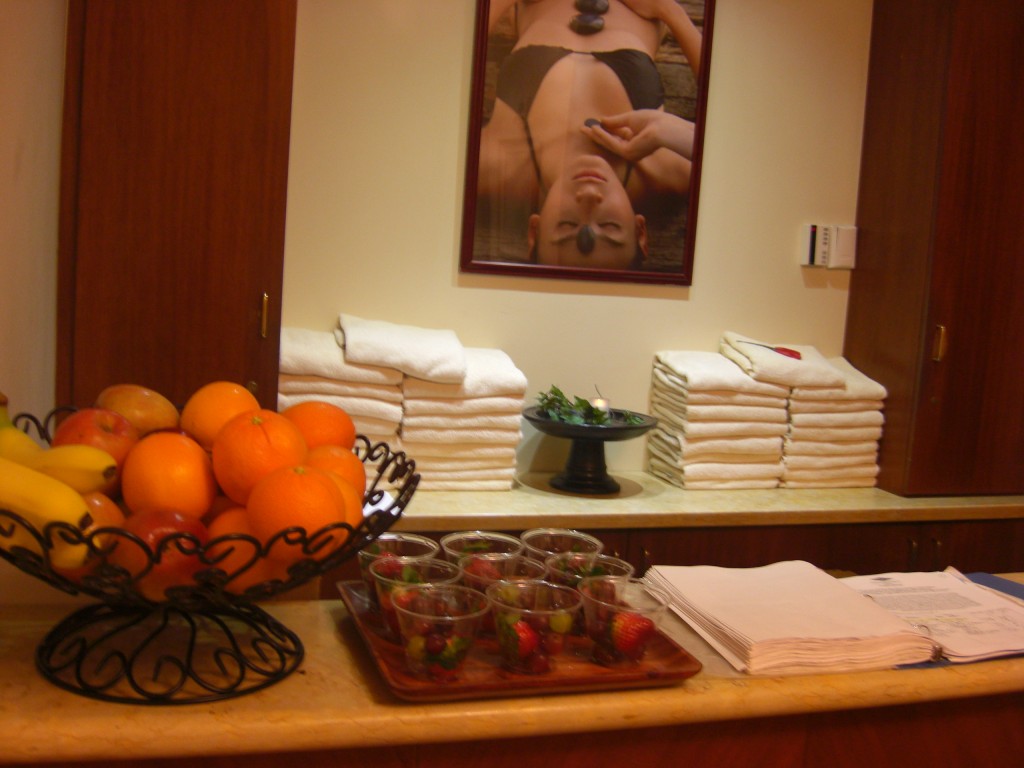 The spa itself is the largest in Waikiki, with over 25 wet and dry treatment rooms as well as separate relaxation lounges for men and women. I had scored a Travel Zoo special for $99 which included a massage, body scrub, and frangipani hair treatment so the room that I'd been booked in was a large suite, complete with a private shower to rinse off after my body scrub.
My massage therapist was great, explaining every part of the treatments and even bringing in my choice of hot tea for after the session. The treatments utilized products like a "tropical glow" scrub (another choice was a chocolate macadamia nut scrub) and essential oils, which are available for purchase in the gift shop after your treatment. Although it would have been a little bit pricey had I not had the special, I really think that if you make a day out of the experience you can really make it worth the splurge. Even a day later, my skin is still smooth and my hair shiny from the spa treatments. I can't wait to go back.
Making the most of your spa day
The following perks can help you maximize your experience at the Hilton Hawaiian Village:
Free Parking
For kama'aina, this is pretty much the #1 draw of any shop, restaurant, or attraction in Waikiki. We all know it costs and arm and a leg to find parking. Booking a spa treatment at Mandara spa entitles you to up to 8 hours (!!) of free, validated parking. Plan ahead and bring an extra change of clothing so you can enjoy dinner or drinks at the Hilton Hawaiian Village or just go for a walk in Waikiki. Your parking will be validated when you leave and you're free to come and go until 9pm when the spa closes.
Fitness Room & Pool
The gym and pool aren't uber-fancy, but they're functional and clean. I recommend checking in early so you can go for a quick workout before your spa treatments so you can feel like you earned the indulgence. The pool faces towards the oceanside of the property so it's sunny in the afternoon, but shaded by the Kalia Tower (and a little chilly) in the morning.
Lounge Area
There are separate lounges for both men & women, with lockers, shower facilities (both western and sit-down Japanese style), dry sauna, steam room, and jacuzzis. They ask that you be ready and in the lounge area at least 15 minutes prior to your treatment, but many guests come earlier or stay later to enjoy the lounge. Complimentary toiletries and Mandara lotions and body oils are available for guests to use.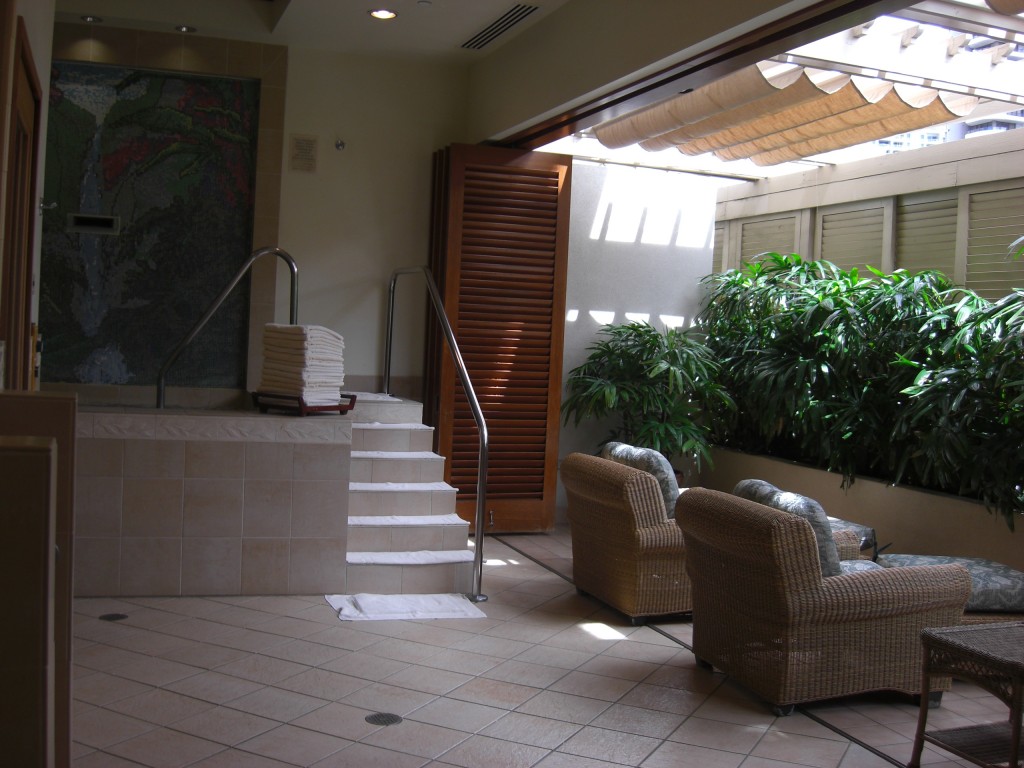 How to score the best deals
The Mandara website has a Special Offers page which is currently featuring 3 express services (massage, facial, and foot scrub) for $129 or mani/pedi for $60. This location as well as the Mandara Spa at Maui's Wailea Beach Marriott have both been featured on Travel Zoo's Local Deals page. There is also a 10% discount on regular prices extended to Kama'aina and Military ID holders.
Location & Info
Hilton Hawaiian Village Beach Resort & Spa
4th Floor Kalia Tower, 2005 Kalia Road
Honolulu, Hawaii 96815
Hours of Operation:
Fitness Center: 6am – 9pm
Spa & Salon: 9am – 9pm
For reservations, call (808) 945-7721 or visit their official website.
If you're looking for more than just a day spa experience, check out Kama'aina Rates for the Hilton Hawaiian Village.