When I travel, I find myself turning more and more often to social media to help me get recommendations from locals on a town's hot spots, best dishes, and up and coming chefs. Sites like Yelp and Foodspotting and their companion smartphone apps are extremely valuable for food-lovers and diners in Honolulu have embraced them wholeheartedly! Here's a guide to help you make the most of some of the most common apps and sites.
Yelp was the first, and probably still the site I turn to most frequently when looking for food recommendations. And the Honolulu Yelp community is not shy to tell you the good, the bad, and the ugly about any hot spot – the site is a compilation of user submitted reviews, many that go quite in-depth. I use it most frequently for restaurants but you can also search for shops, hair salons, activities, etc. It's a great place to get feedback to see if that new restaurant lives up to its hype, check out user-submitted photos (often of menus, very helpful), and if you're using the smartphone app, you can dial the business straight from the Yelp site or view deals for Yelp users. I also highly recommend checking out and/or signing up for the Yelp Weekly newsletter. You will get a weekly email with a roundup under a certain theme every week, like cheap eats, date spots, hot pot restaurants, breakfast spots, etc.
>> Find me on Yelp here.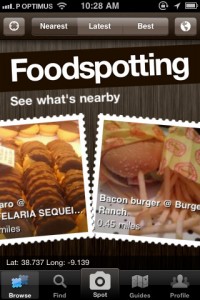 Foodspotting
"Where shall we go for lunch?" "I don't know, you pick." "I picked last time, it's your turn." This exchange is all too common, and sometimes you're just so hungry that you don't have patience left and end up going with the first place you see. It seems like whenever I get to that point, I'm almost always disappointed. Foodspotting to the rescue! Download their handy little app and you will soon have photos of the actual dishes from nearby places popping up right before your eyes. Foodspotting uses your GPS location to show you pictures that other users have tagged nearby, so you can browse until you find something that looks delicious.

>> Find me on Foodspotting here.
Last year, when a friend and I were on a road trip from San Francisco to Los Angeles, we had planned to do some wine tasting along the way. I've been to Napa and Sonoma many times, yet never the wine country regions of the central coast. So we set off on the Pacific Coast Highway, with a loose plan to make at least two stops along the way. I put out a query on Twitter asking for recommendations and someone chimed in with their favorite winery in Paso Robles. It ended up being a great find! Combined with the fact that Yelp was running a "check in special" and we were able to take advantage of a free wine tasting there. Score!
>> Find me on Twitter here.
If you don't have your own "following" on Twitter (not really necessary, in my opinion) or if you don't even have a Twitter account, a great way to get targeted information is through the use of Twitter lists and hashtags. Any user can create a list and make it public. For example, I have a list called "Honolulu Wine & Dine" (click here to view). I've added the local chefs I follow, food trucks, etc, so I have all of the Honolulu food-related tweets I need in one stream. A quick glance can show me the specials of the day for a variety of places I frequent, locations of my favorite food trucks, and more.
>> Examples of my Twitter lists that I follow or have created here.
I've only recently begun using Foursquare, but I find it useful when looking for specials nearby via the "explore" function. This is another geo-location based service, so you'll want to download it on your mobile phone, although you can also search for nearby places on your computer. Users "check in" to local businesses, restaurants, etc. and occasionally doing so can score you a discount. For example, Zippy's restaurants recently tweeted that checking in on Foursquare will score you a small drink for 30 cents. Local businesses may choose to reward the most frequent visitor (called "the mayor") with special deals like free cover, 10% off their purchase, or other perks. Since I have quite a few foodie friends on Foursquare, I also find myself drooling when they post pictures to go with their check ins.
>> Find me on Foursquare here.
Last, there's no app for this, but NonStop Honolulu has excellent coverage of Honolulu's food scene. If you're planning a trip to Honolulu or just hungry and looking for some good old food p0rn, it's an a great resource! Also good event coverage and blogs by local insiders. Honolulu is a delicious city – have you had luck with any of these apps? Or know of one I'm missing?
Still hungry??
>> For a list of the latest posts related to FOOD, click here.
>> For a Honolulu Restaurant Recommendations, click here.