It's hard to believe that Honolulu's food truck scene has grown so much over the past few years, but it's showing no signs of slowing down! The monthly Eat the Street food truck rally continues to grow and evolve and it's still the best way to try out the newcomers along with old favorites.
Eat the Street is a free gathering of Honolulu food trucks held on the last Friday of the month and although most often they are held at 555 South Street in Kakaako, the location can sometimes vary to include other parts of the island. Check in at StreetGrindz.com for the latest news.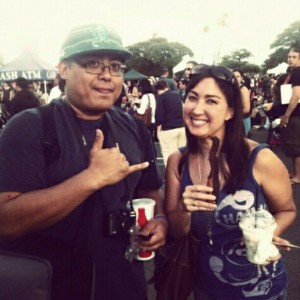 In April, the theme for Eat the Street was BACON. A live bacon poetry contest was held and every truck offered at least one bacon item on the menu. The most popular were sold out within the first hour! I had really wanted to try FairyCakes Butter-rum Bacon Lollipop and Loaded Baked Potato Fries from Street Frites but both were already out by 5:30. This just goes to show how important it is to go early.

I did get to try a few really great offerings. Le Crepe Cafe had a turkey bacon crepe which I had first turned my nose up at since I just don't believe in turkey bacon. A friend brought me a bite of the cheesy crepe with a drizzle of maple syrup and I was instantly won over.
EAT catering's spiced maple bacon dipped in Waialua Chocolate was another yummy treat, particularly when paired with the Bacon Maple Shake from Liquid Pleasures, which mostly tasted like a vanilla shake with hints of maple syrup laced through and bacon bits punctuating each slurp. Yum.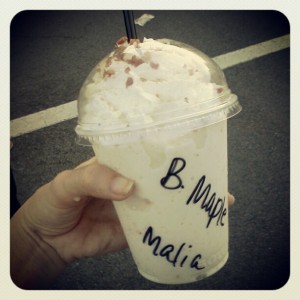 A few non-bacon related findings that I really enjoyed as well – The Doner Shack had a really delicious beef wrap, piled high with veggies and sliced beef wrapped up with a tangy yogurt sauce. They're normally parked on Keeaumoku across HMSA, according to the guys in the truck. I made a mental note to check them out later. Elena's filipino food truck had fried rice with lechon on the side, which looked sooo ono!
Sean Priester was at his usual post in front of the Soul Patrol Truck, and I saw via Melissa Chang's instagram feed that he had a hand-cut togarashi maple bacon plate. YUM! There was also a truck with lobster stuffed with crab that was quite tempting, but at $20 was a little out of our budget. Might be a splurge for another day.
Tips for attending Eat the Street
Go early – The event starts at 4pm and lines only get longer as the night goes on. Eat a light lunch and go early to get your first choices.
Be patient – Save yourself stress by coming with the mindframe that you are not going to be getting right in and out of this event. You WILL spend time standing in many lines, so be prepared to wait. Patience is a virtue, after all.
Park on the outskirts – Rather than circling around and stalking a close parking spot, save yourself the headache (and work off a few calories) by parking a few blocks away and walking to and from the event. It beats sitting in traffic, and we can all stand to walk a few blocks now and then, can't we?
Strength in numbers – The best approach is to bring a big group of friend and a few chairs, like for tailgating. Set up a general location in a central spot and take turns heading out to check out the options and to wait in the various lines, then bring back your choices to share. If you go alone or in a couple, expect lots of leftovers. Most trucks do full-sized plates, not tasting portions.
Do your homework – Before the event, I always like to check out the sneak peek previews on NonStopHonolulu.com and Street Grindz to see what the trucks are planning, so I can have a general list of "must trys" in my head.
Use social media – On Twitter, search for the hashtag #EatTheStreet. If you've got foodie friends on Instagram that may be at the event, you can check out what they're eating and head that way. Foursquare check-ins often reach "swarm" capacity (50 users) at these events so you may even bump into a few friends IRL.
Still hungry??
>> For a list of the latest posts related to FOOD, click here.
>> For a Honolulu Restaurant Recommendations, click here.