Perhaps it's my Japanese side talking, but sushi is one of those things I could eat just about every day. There's something about that perfect piece of nigiri – the rice with just the right vinegary tang, topped with a super fresh slice of fatty ahi, salmon, aji or mirugai… Ahhh. Bliss.
If you're a sushi lover like me, or actually just a lover of Japanese culture in general, then you MUST watch the documentary called Jiro Dreams of Sushi. It's a fascinating look at a Japanese family and their passion for and dedication to the art of making sushi, as well as the complex family dynamic of a father in search of perfection and the expectations he holds for his two sons. Beware, you will definitely want to make reservations for a sushi restaurant for after the film – don't say I didn't warn you.
Here's the trailer:

Jiro Dreams of Sushi Trailer

How can you not love this face? Jiro's an inspiration! And at 85 years old, he's still striving for perfection and finding joy in getting up and doing the same thing every single day. He has truly dedicated his entire life to his craft.
I saw the movie with a foodie friend who had already seen it and liked it so much that he wanted to see it again. Afterwards, we of course could think of nothing else we'd rather have for dinner than sushi, so we stopped at a little restaurant called Akasaka and pulled up a couple of chairs at the sushi bar.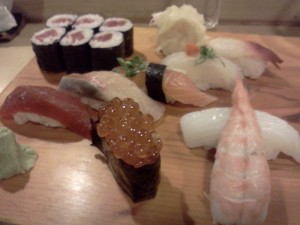 First we got the nigiri sushi combination platter since we were focused on getting our sushi fix, but also ordered a few side items to share. The scallop butteryaki was served on a sizzling platter with five huge scallops and the butteryaki sauce, with a squeeze of fresh lemon to finish it off.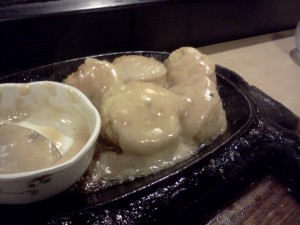 Delish! We also got yakitori skewers of gyutan (beef tongue) and mirugai (I prefer this raw, it was a tad too chewy for my taste). By this time the sushi chef was pretty impressed that I still had any room left, but we ordered crisphy fried flounder and amaebi nigiri since I'd never tried it!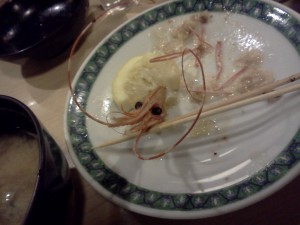 Hungry yet? Go out and watch the movie and let me know what you think! And of course, where you ate sushi after. 😉
Akasaka
1646 Kona St, Ste B
Honolulu, HI 96814
(808) 942-4466
>> For sushi and other restaurant recommendations in Honolulu, visit this page.
>> For a list of the latest posts related to FOOD, click here.