Trying out new restaurants on Maui, for me, is always a challenge. There are old mom-and-pop favorites, like Sam Sato's, where I try to stop each time I come home because I never want to see them go out of business. Then there are more recent favorites, like Star Noodle, where I'd only been once and longed to return. Throw in stops at farmers markets and of course, home cooked meals with family.
I've only got one stomach and one weekend! What's a girl to do?
There are many places that have come and gone in the time since I moved from Maui to Oahu, 13 years ago. One newish restaurant I was curious to visit was Monkeypod Kitchen by Peter Merriman, one of the founding chefs of the Hawaii Regional Cuisine movement. We loved Merriman's in Waimea, so when a friend suggested Monkeypod Kitchen for happy hour, it was quite an easy choice.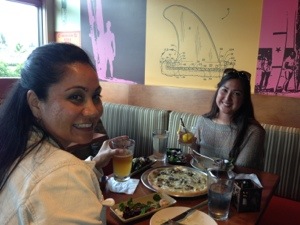 The atmosphere at Monkeypod Kitchen was quite lively. We did find ourselves shouting a bit, with tables close enough for eavesdropping and live music played throughout the restaurant and bar. But overall, I think it just contributes to the energy of the place, which I really enjoyed.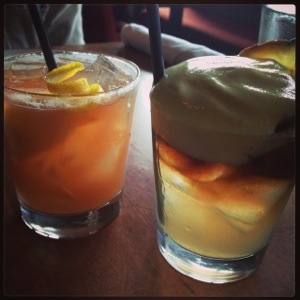 Happy hour pricing brings the excellent hand-crafted cocktails down to $8 – I had to order the "Makawao Avenue" given that we lived there for many years – bourbon, lemon, honey, angostura bitters, and ginger beer. We also tried the mai tai, which features the traditional recipe, with the addition of a honey-lilikoi foam which was quite tasty, but since I wasn't feeling like rum, I went back to the Makawao Ave. They also have a great selection of beers on tap, including local breweries.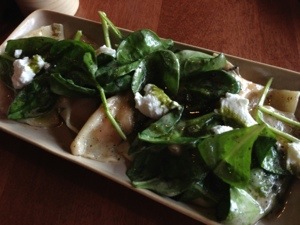 Our favorite appetizer was the pumpkin ravioli, lightly dressed with a brown butter-sage sauce and tossed with spinach and goat cheese. Non-seafood appetizers are half off during happy hour and at $6.50 for six pieces we came quite close to ordering a second of this dish.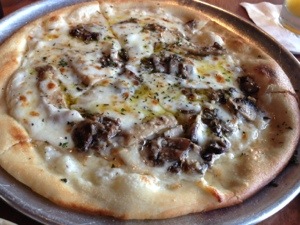 Wood fired pizzas, like this Hamakua wild mushroom with truffle oil, are only $9 at happy hour. Personally I felt the cheese was a little too heavy – making it quite oily. But we'd also ordered a beet salad and a side of Parmesan-topped Brussels sprouts to balance everything out.
Given the heavy emphasis on locally sourced dishes at the Waimea restaurant, I was a tad disappointed that a lot of the menu isn't as "local" as I would have expected – although I bet if we'd gone with fish it would have felt more "Merriman's" to me. But everything was tasty, the service (especially at a casual/bar seating) was outstanding, and most importantly, I had great company. Thanks Bri! 🙂
Monkeypod Kitchen by Merriman's
10 Wailea Gateway Place, B201
Kihei, HI 96753
(808) 891-2322
>> For a list of the latest posts related to FOOD, click here.
>> For more on MAUI, click here.