Every time I go home to visit family on Maui, there are a few places where I make a point to stop and Sam Sato's is always at the top of my list. Tucked into a cozy booth, digging into my usual order "small dry, no sprouts" and looking up at my family hunched over their own bowls, it just tastes like home.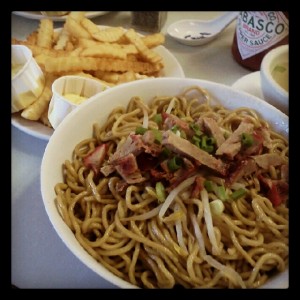 Sam Sato's is famous for their "Dry Noodles" which are local saimin noodles, fried up with char siu, green onions, and been sprouts, and served simply with a bowl of dashi on the side. Although the "dry" style is really the way to go, if you choose you could also try local noodle favorites like chow fun, saimin, or won ton mein. Popular sides are teri beef sticks, kim chee, or french fries. On Maui, the traditional "sauce" to go with your crinkle-cut fries is a mixture of mayo and mustard.
On the way out, be sure to pick up a box of manju, a flaky little pastry stuffed with a sugary-sweet lima (my favorite) or azuki (traditional) bean filling. They also make delicious little turnovers in satisfying flavors like apple, pineapple-peach, and blueberry. You can mix and match, and a box of these make perfect omiyage to take home to friends and coworkers!
Sam Sato's
1750 Wili Pa Loop
Wailuku, HI 96793
(808) 244-7124
Hours: Mon-Sat 7am – 2pm (Manju pickup til 4pm)
There are a few other Maui institutions that I try to stop by, hoping they won't close (like Kitada's!) when family doesn't want to take over the business. I keep thinking if I do my part and visit, perhaps they'll stick around for another few decades…
Some of my top picks for Maui nostalgia include:
Komoda Bakery – Must try items include their famous stick donuts, cream puffs, butter rolls, and other assorted pastry goodness. (Makawao)
Fukushima's – On the way to Hana or just out for a drive in the country, we always stop at Fukushima's for hot dogs and chow fun. (Haiku)
Tokyo Tei – Yet another family-run hole-in-the-wall, serving the BEST crispy shrimp tempura. Also good are the teri steak, fresh ahi sashimi, and miso butterfish. (Wailuku)
>> For a list of the latest posts related to FOOD, click here.
>> For more on MAUI, click here.