I'm really behind on getting this post up, as in the month and a half since I was lucky enough to finally eat at a Miso & Ale pop up dinner, they've already taken the concept and expanded it! Sake pairings complemented a recent pop up at Downtown's new Lucky Belly, and now a ramen pop-up shop at Mr. Ojisan… Who knows what these guys will do next. Trust me, you want to be there for whatever it is.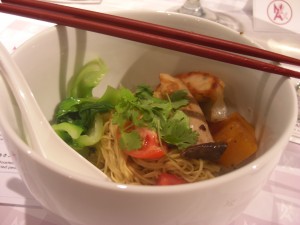 Miso & Ale is a pop up restaurant concept bringing gastro-pub style food to Honolulu diners. If you're unfamiliar with what a "pop up" is, you're not alone! Basically, it's a culinary show on the road. The chefs behind Miso & Ale "pop up" in various restaurants – often ones that might normally be closed for dinner service – and take over the kitchen and dining room to transform it into a treat for the palate and the senses.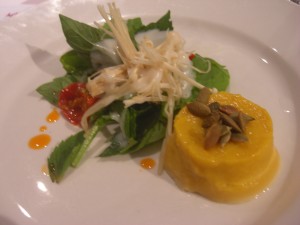 If you're a fan of the molecular gastronomy movement, you will absolutely love the whimsical dishes on the five course menu (changed frequently) at Miso & Ale. For example, during the dinner service I attended, the grand finale was a "Deconstructed PB&J" where the chefs brought out liquid nitrogen (!!) to create a delicious peanut butter ice cream right before our eyes. It was like dinner and a show rolled into one, and with the perfect timing to keep me from falling into a food coma – you WILL walk out of this meal full! (Some diners even bring tupperware!)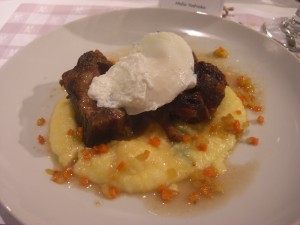 For more photos, head over to the Shoyu Sugar Facebook Page. Don't forget to "like" us while you're there! 😉

Where to find Miso & Ale:
Miso & Ale – official website & blog
Miso & Ale – Facebook Page
Miso & Ale – Twitter
Note: Limited seats are available for each dinner so you have to keep watch of their website and social media channels for the next announcement, then snap up your tickets ASAP. (You might also want to check out the Shoyu Sugar foodie calendar for these and other events around Honolulu each month!) As the pop up concept and menu are always evolving, even repeat diners will not tire of the menu. Highly recommended!
Still hungry??
>> For a list of the latest posts related to FOOD, click here.
>> For a Honolulu Restaurant Recommendations, click here.