While I wish that I could say that I had a gorgeous view of the Rockies while flying into Denver International Airport, the woman sitting next to me kept sticking her frizzy head of hair into my line of sight out the window. Alternately glancing fearfully out the window and leaning her head onto the seat in front of her, she kept her hands tightly clasped in front of her, as if praying. (Which made me wonder why she would sit next to a window if she's afraid of flying??)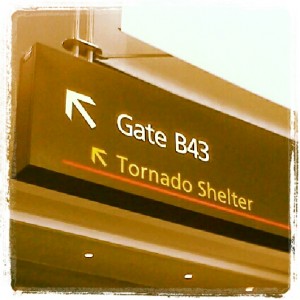 I hadn't slept at all through my red-eye flight and missed my first connection, but luckily the gate agent was able to route me directly to Denver, which allowed me to arrive 5 hours early. Score! Bleary-eyed, I caught my shuttle to The Curtis, a funky little boutique hotel in the LoDo area. The only thing I really noticed as I arrived was the friendliness of the staff and the warm cookie I was given upon arrival, since the hotel is actually a Doubletree property. I promptly stumbed up to my room and into the large, comfy bedding for a quick catnap.
>> For a full review of my stay at the Curtis, click here.
Given that I had just a few short hours to enjoy Denver, I began with a walk down the pedestrian-friendly 16th street mall. Though I didn't catch one of the free shuttles that run the length of it, it was nice to know that was an option if I got too tired of walking or did too much shopping. I snapped a cheesy tourist photo on the 13th step of the State Capitol building, which marks the altitude of exactly one mile above sea level.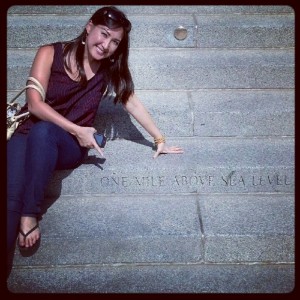 Just a short ways from the Capitol building is the excellent Denver Art Museum. At the suggestion of the museum staff, I wandered around the 3rd and 4th floor galleries, which hold a great collection of Contemporary art. I especially liked the pieces done by local artists which gave a taste of the culture and landscape of Colorado and the Southwestern US.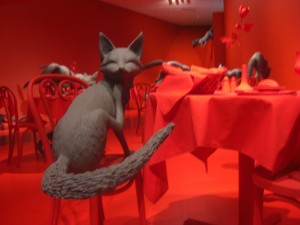 I didn't have nearly enough time to properly enjoy it, but there was an amazing travelling exhibit on Yves St. Laurent showing which fashion lovers should absolutely not miss. Even with just a brief walk through the collection, I was captured by the beautiful gowns, suits, and sketches that spanned the designer's entire career. Walking through a floor-to-ceiling display of fabrics, I couldn't help but lose myself in the detail of the different colors and textures that inspired YSL throughout the years.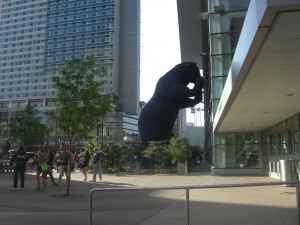 One of the great things about Colorado is that it is famous for having the highest number of microbreweries per capita in the nation! Fans of craft beers should definitely not miss sampling some of the innovative flavor combos and twists on classic brews that are coming out of these local breweries. A great stop to sample them is the Wynkoop Brewing Company in the LoDo area. My favorites seemed to come out of Tommyknocker Brewery from nearby Idaho Springs, particularly the Butt Head Bock. Delish!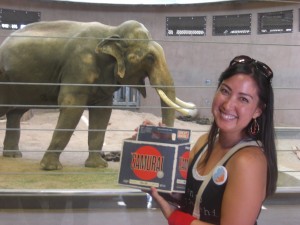 For dinner, especially if you're visiting on a Tuesday, Wednesday, or Thursday evening, stop by Twelve Restaurant. Only $38 for a three course, prix-fixe seasonal menu (changed monthly, hence the name) with an emphasis on local ingredients and clean flavors. Or head to the Cherry Creek area for great shopping, back to LoDo for the nightlife.
On My List for Next Time
While most of my time was spent in and around the Lodo area, there is much more to Denver to see if you're so inclined. If I'd had more time, I definitely would have checked out:
– Stranahan's Whiskey Distillery – This small-batch whiskey distillery turns out only 40 barrels per week. Every other week they bring in about 50 volunteers (from a list about 6000 strong) to come in and help with the bottling, as it's all still done by hand. For their labor, volunteers are treated to a meal and a bottle of Stranahan's whiskey which is not sold outside of Colorado. For those not lucky enough to land a spot in the bottling, the distillery offers tours, which come highly recommended.
– Red Rock Amphitheater – Seeing a concert at this amazing outdoor amphitheater has a new place on my bucket list. It's said that artists who play here love the stunning natural acoustics so much that they often return time and again, and they've hosted everyone from the Beatles to U2.
The Bottom Line
There really is so much more to do in Denver! You can pack quite a lot into 24 hours, and it will give you just a little taste of what Denver has to offer. But to really get to know this city, you need much more than a day! I know I'll be back!
>> To view all of my posts from Colorado, click here.
>> For photos from the road, check out my album over on the Shoyu Sugar Facebook Page.
Some of my activities were furnished by Visit Denver, the Convention & Visitors Bureau, however all of the opinions are my own.