New York City hotels are notoriously expensive, especially at the last minute. So how did I manage to score a 3 1/2 star hotel for less than $140/night with only two days notice? Hotwire.com!
If you've never used Hotwire before – or even if you have – you may be a bit leery at my suggestion. The way the site works is that when hotels have unsold inventory, they pass it over to Hotwire.com to sell without revealing the name of the property until after you book. The reason for this is that revealing their rock bottom prices would make it difficult for these hotels to continue charging their normal rates on their website and other hotel booking services.
The good news for you is that there is a way to get around the "anonymous" booking feature, by using a website called BetterBidding.com.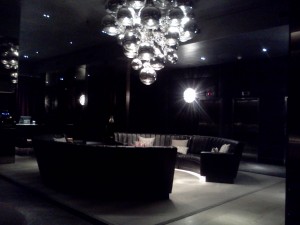 Start by getting your price quote on Hotwire by selecting the region and hotel star level in the area you'd like to stay. Then, head over to BetterBidding.com and scroll down in the forum for the appropriate Hotwire hotel list. (Note: this works for Priceline as well.) Lists are ordered by state, search for the neighborhood, then star rating. You'll get a list of hotels that have been booked by previous customers along with their amenities listing. By checking this with whatever Hotwire is telling you, you should be able to get a pretty good idea as to what hotel you will be booking.
If you'd like to take it a step further, you can also check out a review site, such as TripAdvisor.com to read up on traveler reviews of the property you suspect, to get a feel for the quality. In fact, this is a good step any time you are booking a hotel, since sometimes travelers leave tips on things like how to avoid certain fees, which rooms or floors to request or avoid, etc. In my example, I could have gotten a 4 star hotel for just $8 more but I went with the lower star level because I preferred their reviews on TripAdvisor.
Once you are satisfied with the price and hotel, head back to Hotwire and complete your purchase. The actual name of the hotel is revealed after your credit card is charged. Simple as that! Yes, it takes a little time, but it will leave you with more room in your travel budget for the important things – like food! =) In my example, I was able to save $170/night on this stay by booking with Hotwire instead of directly through the hotel.
Happy travels!
>> Looking for Kama'aina deals in Hawaii? Visit our Kama'aina Travel Deals page.