Driving out along Kalanianaole Highway usually gives me a feeling of anxiety. It's the route for the Honolulu Marathon between miles 12 to 22 or so and usually the memory most associated with this stretch of asphalt, for me, is one of pain.
In fact, entire area of Hawaii Kai – from Maunalua Bay to Koko Head – is generally linked in my mind with running, so today as I drove with blue skies overhead and slippers instead of running shoes on my feet, I could feel myself relax. Pulling up to Otsuji Farms, I truly felt like I was leaving the city and my cares behind.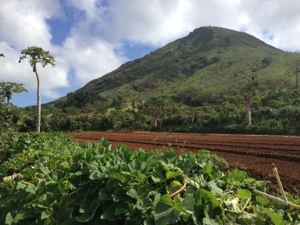 This morning I was invited to join one of the first in a series of collaborations between
Food for Life Hawaii
and Ed Otsuji, who donates much of the produce used in their cooking classes and demonstrations. The theme of the day was Farm to Table, which is why our group of about 20 met up at
Otsuji Farms
– situated on four acres of Kamehameha Schools land tucked between Kaiser High School and the base of Koko Head crater.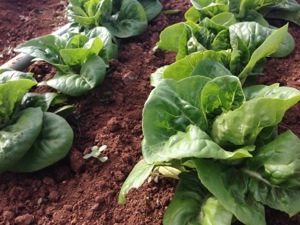 Soon Farmer Ed pulls up, decked out in his trademark floppy hat. Many in the group are already fans of Otsuji produce from the farmers market stands which make up half his business. I first met Farmer Ed three years ago, back when they started selling a $10 veggie box at the Saturday Hawaii Kai Farmers Market. I've been a loyal customer ever since, always trusting his recommendations for things like kale, amaranth spinach, purslane – things I never would have tried on my own.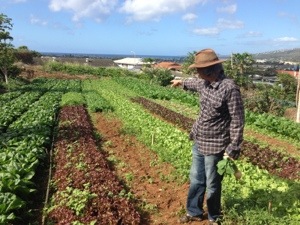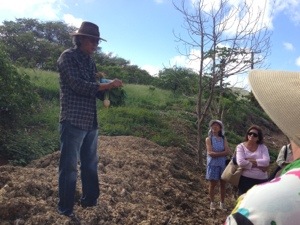 The group is treated to a 45 minute stroll around the various fields as Ed points out beets, green onion, chard, kabu, bok choy, varieties of lettuce and kale. Along the way I spy hens, caterpillars, even a butterfly or two – everything humming along in harmony as Ed reminds us that even the earthworms tunneling below and the microbes in the soil are all a part of the symphony he hears when he walks through the fields each evening. (Check out the videos at the bottom of the post for more of Farmer Ed.)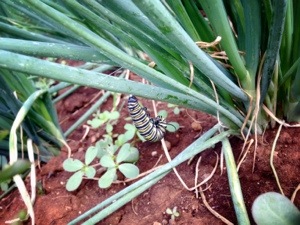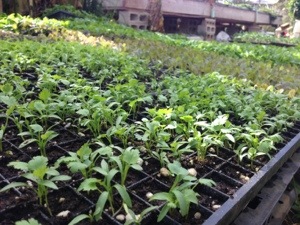 As the tour wraps up, some opt to purchase veggie boxes while the rest caravan to the demonstration kitchen in Kalihi for the second part of our class. Here we are met by Ayla Sarnoff, who walks us through the health benefits and preparation tips for the produce we've just gathered, including recipes.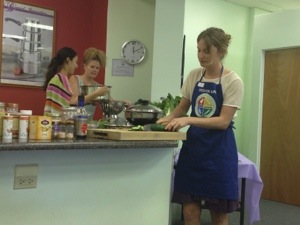 Our sampling includes a ginger iced tea steeped with purslane, a "super greens" salad with kale, bok choy, lettuce, radish, carrots drizzled with a Thai curry dressing, and a noodle stir fry with peanut sauce featuring alii mushrooms, tomato and bean sprouts mixed in with the dark leafy greens. All the ingredients used are fresh and healthful, including substitutes for oil, salt, and sugar. For those looking to incorporate healthier choices, the tips are excellent and Sarnoff does a great job of providing the information without preaching. As Farmer Ed says, it's the little things that add up.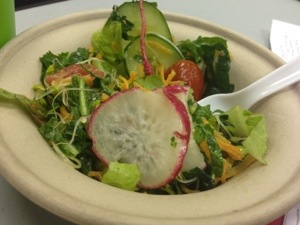 The next Farm to Table tour takes place in April 28th as part of Food for Life's 21-day Kickstart Your Health program, which includes four classes plus the farm tour, $119. You can also opt to do the tour and cooking demo separately for $49.
>> Details can be found on the Food for Life Hawaii website and Facebook page.
Farmer Ed explains his nickname for one of his favorite types of lettuce:
The story of the famous $10 box: