People always wonder why we'd ever leave for vacation, when we live in paradise. Yet locals love to travel, whether its the Big Apple, Japan, or just Hawaii's unofficial 9th island, Las Vegas. But rarely do people from Hawaii head to Mexico since the climate and water activities are pretty similar. It wasn't at the top of my list either, but I'd won a free hotel stay at a swanky hotel right on Medano Beach. So why not?
Turns out, Cabo was great! I'm so glad I won that trip, otherwise I might never have gotten there.
Here are a few of my favorite things about Cabo:
Time Share Presentations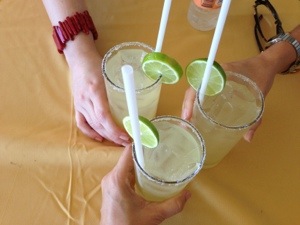 Believe it or not, sitting through a timeshare presentation can have its perks. I'd never been asked to attend one before, but red flags were going off in my head as the charming salesperson offered us information on things to do, plus free ziplines, plus glass bottom boat, plus airport transfers… It seemed too good to be true. We figured there were three of us and there's strength in numbers, right? Sure, we did have to take the strong armed shame tactics used by "the closer" but all in all we made out well! In exchange for three hours of our time we got all the freebies plus a tour of a beautiful resort, breakfast, and the best margaritas we had in Cabo. I'd say we won. If you get approached and have the time, do it and milk the freebies!
Ceviche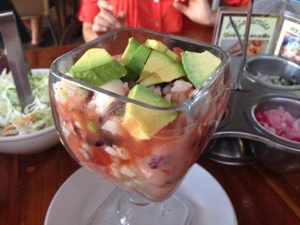 Oh. My. God. I've always loved ceviche but I fell all over again at a little restaurant called Gardenia's. It was our second day and we'd just gotten out of our timeshare solicitation. We were feeling the sting from the sour note we'd left on, so we decided to console ourselves with a snack. Gardenia's appeared like mirage and made it all better! Chunks of avocado topped a huge portion of shrimp, tako, and sweet baby scallops. After the first bite we all swooned. Seafood lovers must also try the fish and shrimp tacos. Heavenly!

El Arco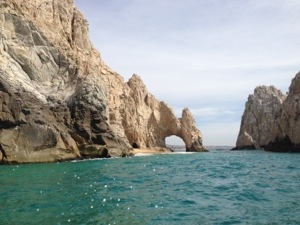 Cabo's most famous landmark is called El Arco, right at the very tip of the Baja Peninsula, also known as Land's End. Yet another timeshare freebie was a boat ride out to Lover's Beach. Two of us get seasick and we were feeling it even on the short boat trip, although if we had felt better it would have been great to get off and have the boat come back to pick us up, as they go every hour or so. As we were, we got out for five minutes to snap a few photos at Lover's Beach and then to peek over at Divorce Beach on the Pacific Ocean side.

All in all, Cabo surprised me. I thought it was only for Spring Break, and I was worried that my "party party" days were behind me. If you're looking for nightlife, Cabo definitely has plenty – booze cruises, tequila shots poured down your throat, and beautiful people lounging by the pool. But there's also delicious fresh seafood, quaint little kitschy shops to browse, and plenty of water sports to help you soak up the sun and the sea.
>> Thinking of heading south of the border? Be sure to check out my Mexico Destination Guide.