Here we are, seven days into the new year and I've scrapped my resolutions already. OK, well not completely. I had a salad for lunch, knowing I'd be indulging in a chocolate-making class this evening…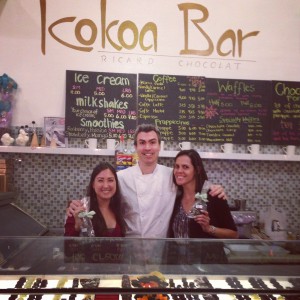 Kokoa Bar by Ricard Chocolat is located on the street level of the Queen Kapiolani Hotel, right across the Honolulu Zoo. Parking, which is usually the main reason NOT to go to Waikiki, wasn't too bad – $1 per hour in the paid lot directly across the street and there were plenty of open spaces at 6pm on a blustery Monday evening.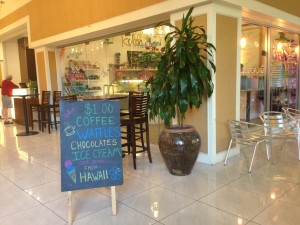 Richard Muszynski, the chocolatier/owner looked pretty official with his white chef's coat as we browsed around the shop and admired the elegantly patterned chocolates displayed around the shop. As he stepped out from behind the counter, I realized waist-down he was wearing surf shorts and slippers, which I guess is not surprising considering the shop is a block from Waikiki beach. Only in Hawaii, right?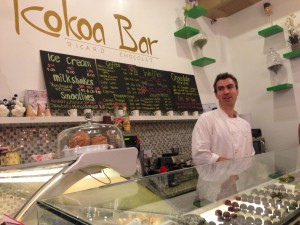 After a brief intro where we were introduced to Muszynski's (quite impressive) background, including schooling at the French Culinary Institute of America and awards and mentions from the Food Network, Travel Chanel, Today Show, and more, we were shown how he uses a silk screen technique to transfer intricate designs to the bon bons.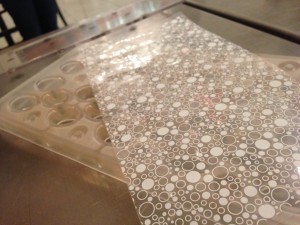 Next was the only real hands-on part of the class – we divided into pairs and selected toppings for our chocolates, which had been poured into the molds for us. The selection of toppings was pretty standard – dried pineapple and papaya, crumbled oreo cookies, sea salt, and the most unique topping – wasabi peas.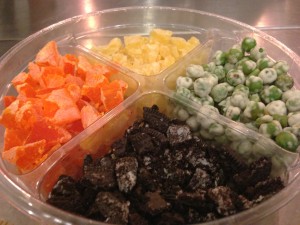 After our chocolates were put in the freezer to chill, we were given a brief course on the history of chocolate and the chocolate farming industry in Hawaii, the only state to grow chocolate commercially. Muszynski explained why buying local may be a bit more expensive – foreign imports often pay workers next to nothing for harvest labor. In choosing to buy local, you're supporting farmers and the agriculture industry here in Hawaii. It may cost more, but that's the price you pay to help keep local agriculture sustainable. (Plus, it's just kind of cool knowing exactly which farm the beans in your chocolate came from, right?)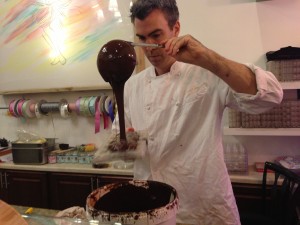 At the end of the class, you get to sample a few different bon bons, plus dark and milk chocolate, and raw cocoa butter so you can compare before and after it's flavored. Then the best part – each student takes home 15 bon bons, tied up with a pretty satin ribbon.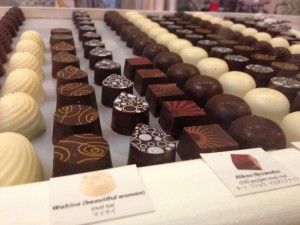 On the drive home, the lingering taste of the rich dark chocolate had me craving a glass of red wine. When I got home, I poured myself a glass while crunching into a beautiful chocolate topped with wasabi peas. Hey, don't knock it til you try it!
Location & Info
Kokoa Bar by Ricard Chocolat
The Queen Kapiolani Hotel (Street Level)
150 Kapahulu Avenue
Honolulu, HI 96815
(808) 922-3140
Tips for your visit:
BYOT – The topping selection was quite small and there's so many creative things you can do with flavors. Bacon bits? Caramelized ginger pieces? Potato chips?
BYOB – I would have loved nothing more than to grab a bottle of wine and to enjoy my chocolates right outside on the beach after class. Actually, you didn't hear that from me – since it's illegal to drink on the beach. 😉
Keep an eye on the deal sites – I scored the class for $25 (half the regular price of $50) via a deal on Groupon. There was also recently a deal posted on the Ricard Chocolate website. I probably wouldn't have paid $50, given that it wasn't really a hands-on class and the group size was so large. But for $25 it was an enjoyable way to spend an hour and the take-home chocolates were both beautiful and delicious.
Still hungry??
>> For a list of the latest posts related to FOOD, click here.
>> For a Honolulu Restaurant Recommendations, click here.
>>Looking for other Things to Do in Honolulu?