UPDATE 9/20/13: Big changes in Kakaako! Biting Commentary reports that Cocina has found a permanent home in the space vacated by the Whole Ox Deli, just around the corner from Taste. It appears that many of the hit dishes from the Cocina pop-ups now will be available in the restaurant, beginning 10/1/13. Nice!
Why is it that street food from another country is never as good when you bring it off the streets and cook it in a clean kitchen?
Except this time, it is.
(Says a friend if mine, who recently dined with me at Taste.)
I won't claim to be an expert on Mexican street food. I finally went to Mexico last month for the first time and I don't know that anything I had (amidst all the touristy resorts in Cabo San Lucas) was ever really close to street food.
I do know that I love what I know of more authentic Mexican cooking – the slow cooked meats, the nice squeeze of a fresh lime, the pickled veggies, nothing covered in that gooey cheddar cheese blend common on more Americanized dishes. And if that all sounds appealing, let me tell ya – the dishes we tried today from Cocina Hawaii really hit the spot.
Here's what we ordered: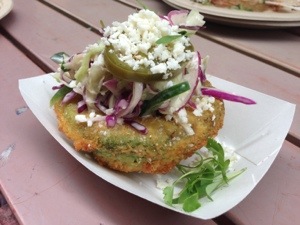 Fried Avocado – creamy slaw, valentina, radish ($7)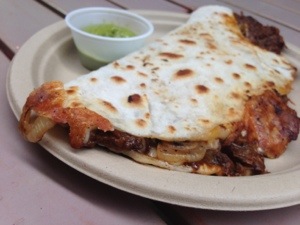 Gringa – beef cheeks, salsa borracho, grilled Maui onion, queso fresco, house made flour tortilla ($10)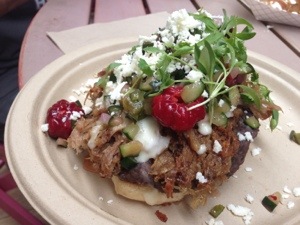 Duck Confit Mollete – Surinam cherry, poblano-cucumber pico, queso blanco ($10)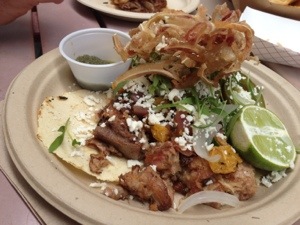 Headcheese Carnitas Tacos – charred orange salsa, pickled jalapeños, cotija ($10) shown topped with crispy pig ears ($2)
There really wasn't anything I didn't like although if I had to pick favorites, I'd definitely go for the headcheese carnitas tacos and the fried avocado. And wash it all down with the agua fresca ($3) which tasted like pure sunshine-y tangerine juice. Delish!
You can find Chef Quinten Frye at Salt on Waialae, but also here at Taste with Cocina Hawaii doing Friday lunch and dinner service as part of this quarter's rotating line up. He's currently a 2013 James Beard Award semi-finalist for rising star chef.
Tips: Go early and take friends so you can sample everything. There's limited seating on the sidewalk and in the front of Taste, or you can head behind to "Harry's Alley". Take out is a popular way to go as well – Ala Moana or Kakaako parks are nearby if you want a picnic with a view. Taste is also BYOB.
Cocina Hawaii at Taste Table
667 Auahi Street
Honolulu, HI 96813
Twitter: @cocinahawaii