UPDATE 4/10/13: Wow, have there been big changes since I posted this! Bob McGee has now left Whole Ox and the new chef, Justin Yu, has some major changes in store. I guess we were one of the last to get the foie gras poutine! You can read more about it on Honolulu Magazine's Biting Commentary.
UPDATE 9/21/13: The Whole Ox has officially shut its doors and Biting Commentary reports that Quinten Frye's Cocina will be taking over. Great news, because I loved Cocina when they were popping up at Taste, around the corner! Read my review here.
It seems like just yesterday, I happened upon an Indiegogo campaign by local chef Bob McGee, hoping to crowdsource the funding for a deli meat smoker so that he could open the Whole Ox Deli in Kakaako, bringing locally made deli meats to Honolulu. But look at them now, coming up on their first anniversary, March 28.
Needless to say, Bob's fans and the social media community rallied around the Whole Ox concept and funded that smoker and then some, building both momentum for the menu and a real sense of community in Kakaako. People come here for more than just the food – Pow Wow Hawaii has left some amazing murals all over Kakaako, and the monthly Eat the Street and Night Market block parties energize the area with huge crowds. Exciting times…
In the year they've been open, I'm ashamed to say I've never been to the Whole Ox for lunch (just takeout) and I totally missed the breakfasts, which I'm super sad about! I finally made it in for dinner to celebrate a friend's birthday. Arriving early, we were able to score a spot under the tree on the lanai and to chat with Bob about the year that's past and the years ahead.
Here's what we ordered: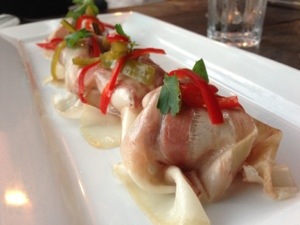 Porchetta di Testa – fried pa'i'ai, pickled peppers, umeboshi ($12)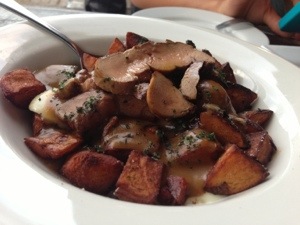 Foie Gras Poutine – fried red potatoes, foie gras gravy, foie gras torchon, crispy pork bits, tallegio cheese ($13)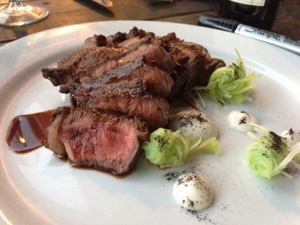 NY Steak Special (off menu) – I forgot to look at the price! Oops.
The past few months have brought big changes to the concept of the restaurant (discontinuing breakfast but opening for dinner, and filling up the deli case with local butcher cuts) and also to the menu. Behind the scenes there have been changes as well, and this week they've brought on board a new Chef de Cuisine, so expect updates to the menu and refinement overall… It will be interesting to see where the new menu takes them, and they've definitely got a fan in me. I'll be back!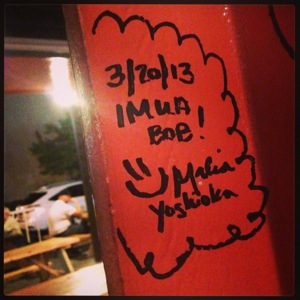 Tips for your visit:
Seating is first come, first served, and the lanai is considered prime seating (when it's not raining) so get there early to snag a table.
BYOB, so feel free to bring along some booze to compliment your meal.
Street parking is available in the surrounding blocks.
The Whole Ox Deli
327 Keawe Street
Honolulu, HI 96813
(808) 699-6328