The bus careens around another hairpin turn and I'm met with a cold blast of mountain air from the window in front of me. Behind me, a child continues happily banging on my headrest and I consider pulling on my headphones to listen to a guided meditation for patience. Or at least Jack Johnson. Something — anything — to pass the next two hours quickly.
But I don't.
To put on my headphones and drown out the world around me would be a shame. (Just because you CAN, doesn't mean you SHOULD, right Kim?)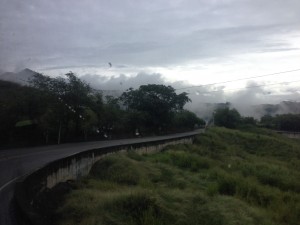 It's been just over a week since I've been in Colombia, my first destination in what will be at least nine months on the road. This has actually been one of the shorter bus rides so far, and truth be told, I really do enjoy them.
So instead of pulling on my headphones, I pull my scarf a little tighter. I watch as we pass small country fincas with cattle grazing mountainous terrain, like goats. The driver veers a bit to avoid a random horse in the road. Eventually the winding country roads we left in Guatape curve into a two lane highway. As we near the city of Medellin, semi trucks and motorcycles whiz past. It's October, one of the two wettest months in Colombia and as the rain begins to pick up, the woman in front of me finally closes her window. Ahhhh, warmth!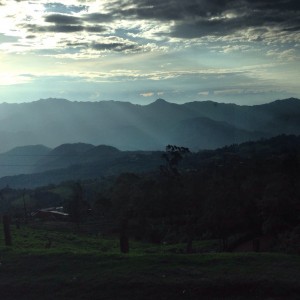 Less than a week ago we followed this same road on a 10+ hour bus ride from Bogota. Colombia is way more mountainous than I'd realized, so most of that ride also had me gripping my seat as we sped up narrow mountain roads and into winding valleys, just barely escaping collisions on what felt like more than a few occasions.
On that trip, around 1am as the lights of Medellin spread out below us at each curve, I remember being in awe that so many dwellings were pushed so far up into the mountains, glowing like landlocked stars. They say Colombia is famous for the magical realism made popular by Gabriel Garcia Marquez, and in that moment I could feel why.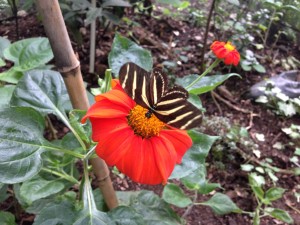 For the next two weeks, Kim and I will be slowing down a bit – today we are catching a bus for Salento in coffee country and then we will move further south to visit friends in Cali, the Salsa Dancing Capitol of the World! As I work on restructuring the blog and catching up on a few non-blog projects to pay the bills, the best way to follow along is via social media, as I'll be posting frequently there.
>> You can find me just about daily on Instagram and Twitter, and photo albums will go up on the Shoyu Sugar page on Facebook.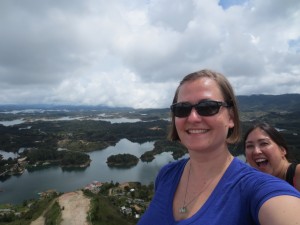 And now, a proper introduction for Kim, who has been my travel companion all over the world. We met in Bali in '08, took a cruise to Greece & Turkey later the same year, attended TBEX conferences in Toronto ('13) & Cancun ('14), went hot air ballooning in Utah, and now we've reunited in Colombia!
We will be heading separate ways later this month for (badly needed) Spanish language classes, then meeting up at some point before March, when we both head to South Africa. Once a corporate attorney in NYC, now a globe-trotting travel blogger, she is doing a fantastic job at keeping her new blog updated, so I highly recommend you take a peek!
>> Follow Kim's Whims at Kim On A Whim.