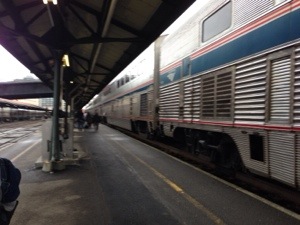 It's just after 4am and the train stops in Chico, CA. We've now crossed the 13 hour mark, almost halfway into my 30-hour train ride. I've gotten maybe five straight hours of sleep, which is quite amazing and more than I'd hoped. I'm sure I'll nap again before the journey is up, but for now it's sort of fun to be the only one awake.
I walk as delicately as I can through the aisle en route to the restrooms downstairs, careful to keep my balance as the train sways gently. Passing each row, two seats on each side, I'm amazed at the variety of creative sleeping positions into which passengers have contorted themselves.
There are some crunched into fetal position over two seats that are more than spacious when sitting but just a bit too small for a horizontal position. A teenager with his hoodie pulled over his head is draped over the armrest of his seat, spilling into the aisle as if he'd passed out after having too much to drink. He reeks of weed as I turn sideways to pass and I wonder if it's for his benefit that the train staff keep making the announcements reminding passengers that smoking – anything, regardless of whether or not you posses a permit, ahem – in the train bathrooms is a federal offense.

The couple in the row next to me seems to have an agreement over the division of their space. She is sleeping sitting, tucked up against the window, cheek pressed against the glass as if trying to melt into it. He spills over both seats, sweatpants covering his huge legs as they rest on both tray tables while he plays on his smartphone, his chubby face glowing in its bluish light. Oblivious that others are trying to rest, he keeps his game at normal volume, alternating every ten minutes or so between playing angry birds, checking basketball scores and snoring loudly. I bump his armrest – accidentally on purpose – when I pass his seat.
The Chinese couple behind me were so excited when we boarded in Portland, taking turns snapping photos of each other in the window seat. I offered to take one with both of them in it and they smiled so proudly it must have hurt. Now they both sleep, sitting straight up next to one another, his mouth slightly more agape than hers but otherwise identical, happy little snores coming from both.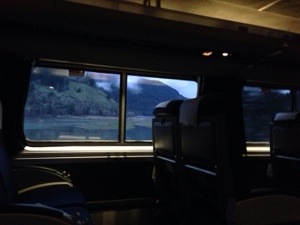 In the darkness I glide back to my seat, my little home for the duration of the trip. Before we left, I prepared for this, charging up my kindle and my laptop and picking up three different meals from the Alder food carts so I wouldn't have to resort to train food, overpriced and under seasoned. Where else can you get chicken tikka masala over biryani, Thai chicken and rice, and a mochiko chicken plate lunch all in the same block? Oh no, I'm missing Portland already!
16 hours to go… Maybe it's time for another nap, as small town after small town rolls by outside my window and the sky slowly lightens back to dawn.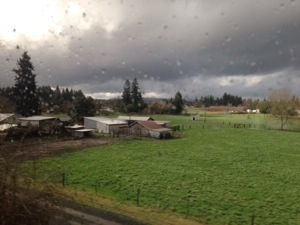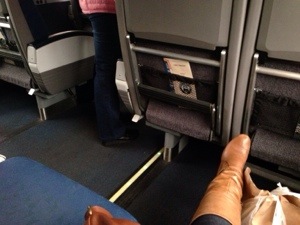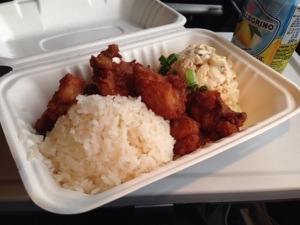 Hungry for more?
Fortunately, I've got you covered…
>> Where to Eat in Portland: Food Carts
>> Where to eat in Portland: First-time favorites
>> Brewery hopping in Southeast Portland
>> Portland to LA on the Coast Starlight
>> Portland Recommendations