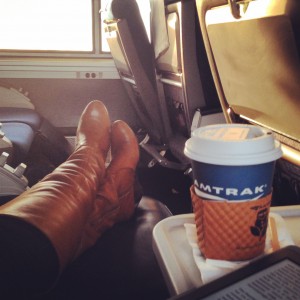 The first time I can remember catching a real train (the Sugar Cane Train and the Pearlridge Monorail don't count) was the summer after I graduated from high school, when I spent three months backpacking around Europe before heading off to college. My friend Meghan and I bought the Europass option that allowed us 8 days of train travel over a 2 month period and we made use of it by visiting France, Spain, Italy, plus a last minute addition of Prague when we gained one extra leg where the conductor forgot to punch our passes.
I loved it even more than I loved airplane travel, simply because it allowed us so much more room, huge viewing windows and freedom to walk through the cars. Growing up in Hawaii, we have no need for a long-distance train, so I find that in my adult life – whenever the routing allows – I try to book train travel to get me at least part of the way to my destination.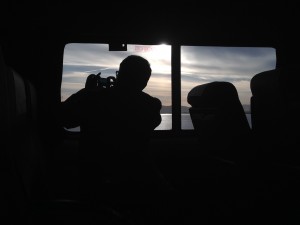 Since that summer in Europe, I've also taken trains in the Northeast US – I remember heading from NYC to West Point one autumn when the leaves were changing color because I sat glued to the window in awe. (Leaves don't change in Hawaii either.) In 2008 when we traveled in Asia, I frequently caught the overnight train between Chiang Mai and Bangkok, enjoying the ride even when I was squished up in my sleeper bunk, rolling around and hoping I wouldn't fall out in the night. One particularly memorable train ride came in 2011, when I'd talked Jess, Eric and Edwin into coming with me from Seattle to Vancouver for my TBEX Conference. On the way back to Seattle, Eric got down on one knee and – with the help of Edwin and I (and the train crew) – shocked Jess by proposing while he played "their song".
Portland to LA on the Amtrak Coast Starlight
This trip, I had the chance to piece together trips on an Amtrak route that I've always been curious about. The Amtrak Coast Starlight actually starts in Seattle and runs all the way to LA, but I opted to catch it from Portland. This portion of the route takes a whopping 30 hours because of the stops, but it really didn't feel that long until maybe the last couple of hours once the sun had set. It was also one of the most productive trips I've had. There is no wifi available yet on this route, which I at first thought would be a hindrance but was really a blessing in disguise. Without constant connection to the internet, I was able to slow down, unplug and to really soak in the experience.
We left just around 2:30pm from Portland and arrived in Los Angeles about an hour ahead of the posted schedule, at 8:15pm the following day. The best part of the trip was watching the scenery change as you head south.

Scenes from the Amtrak Coast Starlight Southbound
Tips for Riding the Amtrak Coast Starlight (Southbound)
I've heard that the Northbound leg of this trip is even more scenic, as we missed out on the mountains of the Cascades overnight from Portland. I'm going to have to compare someday by taking it in the opposite direction! If you've done the train Northbound, feel free to leave a comment with your experience! For now, here are a few tips if you'll be traveling Southbound on the Amtrak Coast Starlight from Portland (or Seattle) to Los Angeles.
Pack your own food – This one I heard from all over and I made sure to heed the warning, because there is such great food in Portland! Just after checking my bags, I made a quick last run to my favorite food cart pod at Alder between NW 9th/10th.

Beer and wine are available for purchase in the cafe car downstairs.

Bring ice and a cooler – I chose food items that didn't require refrigeration and got my beverages from the cafe car onboard, but if you plan to BYOB, definitely make sure you have enough ice to last the trip. The bar car ran out of Sierra Nevada less than 2 hours into the trip, and even Heineken was gone in less than 5 hours. If you rely on the cafe car for snacks or food, they do run out of those as well, so be sure to pack your own or prepare to widen your choices.
Pick your side of the train – At the beginning of the route, the left side offers beautiful mountain views before dark. Once morning comes (for us in early March, this was just a few stops before we crossed from Oregon into California) the right side of the train offers better views through Salinas. Heading into San Luis Obispo, it was the left side that offered wide views of the beautiful rolling hills of the Cuesta Grade. Then again the better view switched to the right when we hit the coast – the beaches and sunset were spectacular. Keep in mind you can always get up to take a photo from the other side, or head to the sightseeing car for better views all around.
Get to the station early – If you're traveling coach you will need to line up at the station before being boarded to the correct car. Once inside you'll be able to pick any open seat, but you want to be sure you're one of the first so you can get the one you'd prefer. I'd recommend getting to the station at least 15-20 minutes prior to boarding and waiting very near to the gate as the line forms quickly. If you've booked a sleeper, you will already be assigned a cabin, so you won't need to rush and will have a special lounge to wait in prior to boarding.
Wear layers – The weather in Portland is likely to be much different from LA, so be sure to wear comfy clothes with layers that you can shed as the car warms up.
Book a discount – I saved quite a bit by booking online with my AAA membership number. If you're a student, senior, military, etc. you can inquire about special fares as well. Sign up for Amtrak's frequent rider program, especially if you travel frequently.
What to Pack – Headphones come in handy, both for blocking out excess noise and for providing a soundtrack for your trip. Pack a camera and/or your smart phone to take photos on the road and bring your chargers if the batteries won't last 30 hours – there is one outlet per seat (two per side) where you can stay charged. If you bring your laptop, keep in mind that wifi may be spotty or broken and that streaming movie sites like Netflix are blocked, so be prepared with videos or activities that don't require an internet connection.
Recommended Reading – Just as a road trip needs a good soundtrack, so does a good train ride lend itself to reading works of authors who create a sense of place. For this trip, John Steinbeck is absolutely the way to go. As we rolled through Salinas Valley, I longed to be reading my old copy of East of Eden that I'd read the year before. The dusty, rocky soil and rolling hills really would have made those pages come alive.

The sightseeing car offers tables and bigger windows for when you need a break from your seat.

Get up and move about – I traveled in coach (no need to book the fancy sleepers unless you can afford it and are traveling in a group. Coach provides about twice the legroom and wider seats than traveling on an airplane) and so although we weren't allowed in the Parlor Car where complimentary wine tastings were offered on the first afternoon, I still had access to the restrooms on the lower level (similar to an airplane bathroom, but more of them), the starlight lounge (a community area where you have even larger windows for checking out the view) and the cafe car.
Engage with the train staff – If you're expecting staff similar to the (often grumpy) service you get from flight attendants, you'll be impressed with the humor and unique charisma the Amtrak staff bring to the long-distance train. Our cafe car was manned by "Mr. Moses" who had a quick, deadpan humor and a smooth radio voice to entice us to come enjoy the snacks downstairs. Some of the other staff made sure to note points of interest along the way, such as the Morton salt factory (and huge salt pile), a nature preserve where we could look for birds and sea otters, and the twin chimney towers recognizable from Steinbeck's Cannery Row.
>> Read more about the Amtrak Coast Starlight.
>> Read more about the onboard experience for Amtrak routes nationwide.
>> For more on Portland, start here.
>> For more on Los Angeles, start here.