Last night a few friends joined me to sample some off-the-menu cuisine by Grant Kawasaki of Hawaiian Grown Kitchen. I've been friends with Grant for years but beyond buying his sushi at Times and bumping into him out and about, I have never really had a chance to try his cooking. I'd been drooling over his Instagram feed and eventually talked him into feeding us. A few girlfriends and I met up at DASH gastropub for a three course tasting. Here's a sneak peek: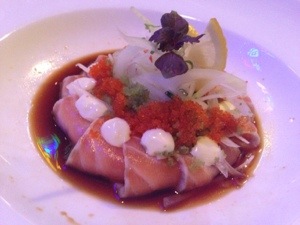 While waiting, we started out with a regular DASH item and my regular order here – Salmon Crudo ($12). Grant also helped get the menu started when DASH opened a year ago.
And then the fun started…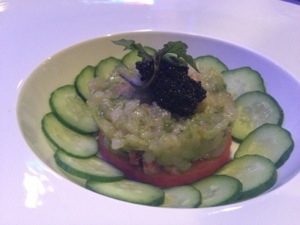 First course: Hamachi Tartare, watermelon, American sturgeon caviar. One of my friends says this reminds her of the same flavors as Chinese-style whole steamed fish – there's green onion, ginger, and shoyu throughout the tartare and a yuzu-soy drizzled over table side. Eaten together with bites of watermelon to brighten it up and crunch from the caviar and cucumber, this dish is a winner.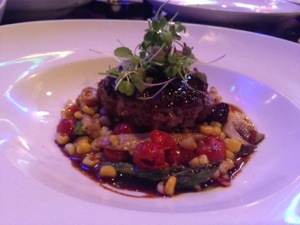 Second course: Lamb Loco Moco, minted demi, Ewa corn succotash. When he was getting ready for this dinner, Grant asked me to name a "favorite dish" that I'd like to see reinvented. I said loco moco, and this is the result. Amazing flavors here! Even those at the table who don't like lamb swooned. The burger was tender and cooked beautifully, perched atop a succotash of ewa corn, Ho farms tomatoes, hamakua mushrooms and asparagus. Yes, there's no rice or egg, and the demi was a Pinot noir-raisin with a hint of mint, so it's not a traditional loco moco by any means. The photo does not do it justice.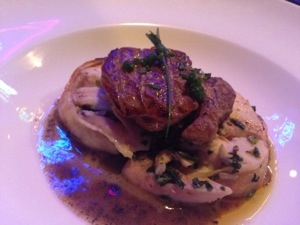 Third course: Ballontine of chicken, sauce perigeux, foie gras. This course was actually meant to be the middle but it was a fitting finale for an indulgent evening. The chicken was stuffed with mushroom, spinach, garlic and the perigeux was rich with madeira wine, mounted with butter and flecked with truffles. The foie just took it over the top.
We were all smiles after dinner and Grant, as usual, hams it up: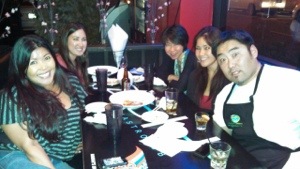 Thanks Chef Grant for the amazing meal and to my foodie friends for making the evening so memorable. Looking forward to hopefully seeing more of Chef Grant in town, but you can currently find him out in Kapolei as Executive Chef at Hawaiian Grown Kitchen, which is open to the public and located on the UH West Oahu campus.
Still hungry??
>> For a list of the latest posts related to FOOD, click here.
>> For a Honolulu Restaurant Recommendations, click here.